EGF products
EGF Turkey File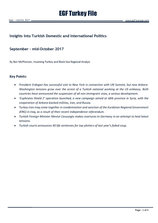 EGF Turkey File, September — October, 2017
Insights into Turkish Domestic and International Politics
September — October, 2017
By Ben McPherson, Incoming Turkey and Black Sea Regional Analyst
Key Points:
President Erdogan has successful visit to New York in connection with UN Summit, but new Ankara-Washington tensions grow over the arrest of a Turkish national working at the US embassy. Both countries have announced the suspension of all non-immigrant visas, a serious development.
"Euphrates Shield 2" operation launched, a new campaign aimed at Idlib province in Syria, with the cooperation of Ankara-backed militias, Iran, and Russia.
Turkey-Iran-Iraq come together in condemnation and sanction of the Kurdistan Regional Government (KRG) in Iraq, as a result of their recent independence referendum.
Turkish Foreign Minister Mevlut Cavusoglu makes overtures to Germany in an attempt to heal latest tensions.
Turkish courts announces 40 life sentences for top plotters of last year"s failed coup.
Previous issues
2019
2018
2017
2016
2015
2014
2013
2012
2011
2010