EGF products
EGF Turkey File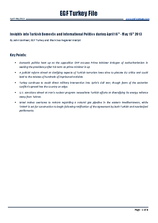 EGF Turkey File, 16 April — 15 May 2013
Insights into Turkish Domestic and International Politics
16 April — 15 May 2013
By John VanPool, EGF Turkey and Black Sea Regional Analyst
Key Points:
Domestic politics heat up as the opposition CHP accuses Prime Minister Erdogan of authoritarianism in seeking the presidency after his term as prime minister is up.
A judicial reform aimed at clarifying aspects of Turkish terrorism laws aims to placate EU critics and could lead to the release of hundreds of imprisoned activists.
Turkey continues to avoid direct military intervention into Syria's civil war, though fears of the sectarian conflict's spread has the country on edge.
U.S. sanctions aimed at Iran's nuclear program necessitate Turkish efforts at diversifying its energy reliance away from Tehran.
Israel makes overtures to Ankara regarding a natural gas pipeline in the eastern Mediterranean, while TANAP is set for construction to begin following ratification of the agreement by both Turkish and Azerbaijani parliaments.
Previous issues
2019
2018
2017
2016
2015
2014
2013
2012
2011
2010