EGF products
EGF Turkey File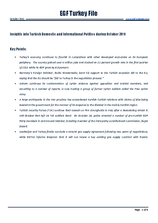 EGF Turkey File, October 2011
Insights into Turkish Domestic and International Politics
October 2011

Key Points:

Turkey's economy continues to flourish in comparison with other developed economies on its European periphery. The country gained over a million jobs and clocked an 11 percent growth rate in the first quarter of 2011 while its GDP grew by 8.8 percent.
Germany's Foreign Minister, Guido Westerwelle, leant his support to the Turkish accession bid to the EU, saying that the EU should be "fair to Turkey in the negotiation process."
Ankara continues its condemnation of Syrian violence against opposition and activist members, and according to a number of reports, is now hosting a group of former Syrian soldiers called the Free Syrian Army.
A large earthquake in the Van province has exacerbated Kurdish-Turkish relations with claims of bias being leveled at the government for the manner of its response to the disaster in the mainly Kurdish region.
Turkish Security Forces (TSK) continue their assault on PKK strongholds in Iraq after a devastating attack in mid-October that left 24 TSK soldiers dead. On October 28, police arrested a number of pro-Kurdish BDP Party members in and around Istanbul, including member of the intra-party constitutional commission, Buşra Ersanli.
Azerbaijan and Turkey finally conclude a natural gas supply agreement following two years of negotiations, while BOTAS informs Gazprom that it will not renew a key existing gas supply contract with Russia.
Previous issues
2019
2018
2017
2016
2015
2014
2013
2012
2011
2010