EGF products
EGF Turkey File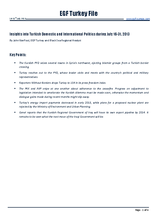 EGF Turkey File, 16 July — 31 July 2013
Insights into Turkish Domestic and International Politics
16 July — 31 July 2013
By John VanPool, EGF Turkey and Black Sea Regional Analyst

Key Points:
The Kurdish PYD seizes several towns in Syria's northwest, ejecting Islamist groups from a Turkish border crossing.
Turkey reaches out to the PYD, whose leader visits and meets with the country's political and military representatives.
Reporters Without Borders drops Turkey to 154 in its press freedom index.
The PKK and AKP snipe at one another about adherence to the ceasefire. Progress on adjustment to legislation intended to ameliorate the Kurdish dilemma must be made soon, otherwise the momentum and dialogue gains made during recent months might slip away.
Turkey's energy import payments decreased in early 2013, while plans for a proposed nuclear plant are rejected by the Ministry of Environment and Urban Planning.
Genel reports that the Kurdish Regional Government of Iraq will have its own export pipeline by 2014. It remains to be seen what the next move of the Iraqi Government will be.
Previous issues
2019
2018
2017
2016
2015
2014
2013
2012
2011
2010