EGF products
EGF Turkey File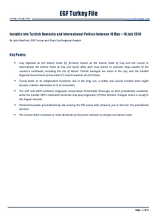 EGF Turkey File, Mid May — Mid July 2014
Insights into Turkish Domestic and International Politics between 16 May — 16 July 2014
By John VanPool, EGF Turkey and Black Sea Regional Analyst

Key Points:
Iraq implodes as the Islamic State (IS, formerly known as the Islamic State of Iraq and the Levant or alternatively the Islamic State of Iraq and Syria) allies with Iraqi Sunnis to overtake large swaths of the country"s northwest, including the city of Mosul. Turkish hostages are taken in the city, and the Kurdish Regional Government of Iraq halts IS"s march towards oil-rich Kirkuk.
Turkey balks at an independent Kurdistan, but in the long run, a stable and secular Kurdish state might become a better alternative to IS on its borders.
The CHP and MHP nominate religiously conservative Ekmeleddin Ihsanoglu as their presidential candidate, while the Kurdish HDP"s Selahattin Demirtas may play kingmaker if Prime Minister Erdogan enters a runoff in the August election.
Parliament passes groundbreaking law moving the PKK peace talks forward, just in time for the presidential election.
The Central Bank continues to resist demands by the prime minister to sharply cut interest rates.
Previous issues
2019
2018
2017
2016
2015
2014
2013
2012
2011
2010