EGF products
EGF Turkey File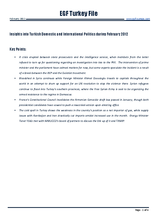 EGF Turkey File, February 2012
Insights into Turkish Domestic and International Politics
February 2012

Key Points:


A crisis erupted between state prosecutors and the intelligence service, when members from the latter refused to turn up for questioning regarding an investigation into ties to the PKK. The intervention of prime minister and the parliament have calmed matters for now, but some experts speculate the incident is a result of a break between the AKP and the Gulenist movement.
Bloodshed in Syria continues while Foreign Minister Ahmet Davutoglu travels to capitals throughout the world in an attempt to drum up support for an UN resolution to stop the violence there. Syrian refugees continue to flood into Turkey"s southern provinces, where the Free Syrian Army is said to be organizing the armed resistance to the regime in Damascus.
France"s Constitutional Council invalidates the Armenian Genocide draft law passed in January, though both presidential candidates have vowed to push a reworded version upon entering office.
The cold spell in Turkey shows the weakness in the country"s position as a net importer of gas, while supply issues with Azerbaijan and Iran drastically cut imports amidst increased use in the month. Energy Minister Taner Yildiz met with NABUCCO"s board of partners to discuss the link up of it and TANAP.
Previous issues
2019
2018
2017
2016
2015
2014
2013
2012
2011
2010