EGF products
EGF Turkey File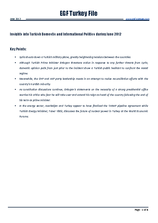 EGF Turkey File, June 2012
Insights into Turkish Domestic and International Politics during June 2012 Key Points:


Syria shoots down a Turkish military plane, greatly heightening tensions between the countries.
Although Turkish Prime Minister Erdogan threatens action in response to any further threats from Syria, domestic opinion polls from just prior to the incident show a Turkish public hesitant to confront the Assad regime.
Meanwhile, the CHP and AKP party leadership meets in an attempt to revive reconciliation efforts with the country"s Kurdish minority.
As constitution discussions continue, Erdogan"s statements on the necessity of a strong presidential office worries his critics who fear he will take over and extend his reign as head of the country following the end of his term as prime minister.
In the energy sector, Azerbaijan and Turkey appear to have finalized the TANAP pipeline agreement while Turkish Energy Minister, Taner Yildiz, discusses the future of nuclear power in Turkey at the World Economic Forums.
Previous issues
2019
2018
2017
2016
2015
2014
2013
2012
2011
2010