EGF products
EGF Turkey File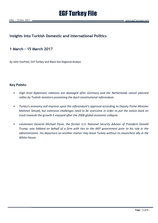 EGF Turkey File, March 1 — March 15, 2017
Insights into Turkish Domestic and International Politics
1 March — 15 March 2017
By John VanPool, EGF Turkey and Black Sea Regional Analyst
Key Points:
High level diplomatic relations are damaged after Germany and the Netherlands cancel planned rallies by Turkish ministers promoting the April constitutional referendum.
Turkey"s economy will improve upon the referendum"s approval according to Deputy Prime Minister Mehmet Simsek, but extensive challenges need to be overcome in order to put the nation back on track towards the growth it enjoyed after the 2008 global economic collapse.
Lieutenant General Michael Flynn, the former U.S. National Security Advisor of President Donald Trump, was lobbied on behalf of a firm with ties to the AKP government prior to his role in the administration. His departure on another matter may leave Turkey without its staunchest ally in the White House.
Previous issues
2019
2018
2017
2016
2015
2014
2013
2012
2011
2010