EGF products
EGF Turkey File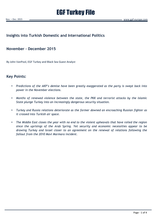 EGF Turkey File, November — December 2015
Insights into Turkish Domestic and International Politics
November — December 2015
By John VanPool, EGF Turkey and Black Sea Guest Analyst
Key Points:
Predictions of the AKP"s demise have been greatly exaggerated as the party is swept back into power in the November elections.

Months of renewed violence between the state, the PKK and terrorist attacks by the Islamic State plunge Turkey into an increasingly dangerous security situation.

Turkey and Russia relations deteriorate as the former downed an encroaching Russian fighter as it crossed into Turkish air space.

The Middle East closes the year with no end to the violent upheavals that have roiled the region since the uprisings of the Arab Spring. Yet security and economic necessities appear to be drawing Turkey and Israel closer to an agreement on the renewal of relations following the fallout from the 2010 Mavi Marmara incident.
Previous issues
2019
2018
2017
2016
2015
2014
2013
2012
2011
2010