EGF products
EGF Turkey File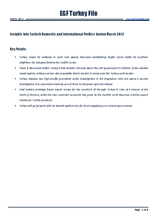 EGF Turkey File, March 2012
Insights into Turkish Domestic and International Politics during March 2012

Key Points:


Turkey closes its embassy in Syria and openly discusses establishing buffer zones inside its southern neighbour for refugees fleeing the conflict zones.
There is discontent within Turkey"s Shia Muslim minority about the AKP government"s criticism of the Alawite Assad regime, raising concern about possible ethnic tension in areas near the Turkey-Syria border.
Turkey releases two high profile journalists under investigation in the Ergenekon trial, but opens a second investigation into comments made by one of them to the press upon his release.
Iraqi leaders envisage future export routes for the country"s oil through Turkey in case of a closure of the Strait of Hormuz, while the two countries" economic ties grow as the Kurdish north becomes a prime export market for Turkish products.
Turkey will go forward with its lawsuit against Iran for short-supplying on a natural gas contract.
Previous issues
2019
2018
2017
2016
2015
2014
2013
2012
2011
2010