EGF products
EGF Turkey File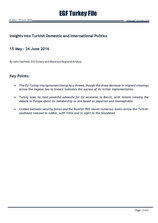 EGF Turkey File, May 15 — June 24, 2016
Insights into Turkish Domestic and International Politics
April — May 2016
By John VanPool, EGF Turkey and Black Sea Guest Analyst
Key Points:
The EU-Turkey visa agreement hangs by a thread, though the sharp decrease in migrant crossings across the Aegean Sea to Greece indicates the success of its initial implementation.

Turkey loses its most powerful advocate for EU accession to Brexit, with Ankara viewing the debate in Europe about its membership as one based on populism and Islamophobia.

Combat between security forces and the Kurdish PKK leaves numerous towns across the Turkish southeast reduced to rubble, with little end in sight to the bloodshed.
Previous issues
2019
2018
2017
2016
2015
2014
2013
2012
2011
2010