EGF products
EGF Turkey File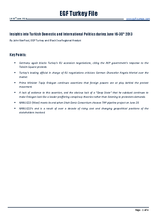 EGF Turkey File, 16 June — 30 June 2013
Insights into Turkish Domestic and International Politics
16 June — 30 June 2013
By John VanPool, EGF Turkey and Black Sea Regional Analyst
Key Points:
Germany again blocks Turkey's EU accession negotiations, citing the AKP government's response to the Taksim Square protests.
Turkey's leading official in charge of EU negotiations criticizes German Chancellor Angela Merkel over the matter.
Prime Minister Tayip Erdogan continues assertions that foreign powers are at play behind the protest movement.
A lack of evidence to this assertion, and the obvious lack of a "Deep State" that he subdued continues to make Erdogan look like a leader proffering conspiracy theories rather than listening to protesters demands.
NABUCCO (West) meets its end when Shah Deniz Consortium chooses TAP pipeline project on June 28.
NABUCCO's end is a result of over a decade of rising cost and changing geopolitical positions of the stakeholders involved.
Previous issues
2019
2018
2017
2016
2015
2014
2013
2012
2011
2010