EGF products
EGF Turkey File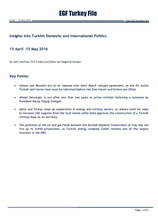 EGF Turkey File, April 15 — May 15, 2016
Insights into Turkish Domestic and International Politics
April — May 2016
By John VanPool, EGF Turkey and Black Sea Guest Analyst
Key Points:
Ankara and Brussels are at an impasse over their March refugee agreement, as the EU insists Turkish anti-terror laws must be reformed before visa free travel restrictions are lifted.

Ahmet Davutoglu is out after less than two years as prime minister following a summons by President Recep Tayyip Erdogan.

Qatar and Turkey ramp up cooperation in energy and military sectors, as Ankara looks for ways to increase LNG supplies from the Gulf nation while Doha approves the construction of a Turkish military base on its territory.

The potential of the oil and gas fields beneath the Kurdish Regional Government of Iraq may not live up to initial projections, as Turkish energy company Genel remains one of the largest investors in the KRG.
Previous issues
2019
2018
2017
2016
2015
2014
2013
2012
2011
2010