EGF products
EGF Turkey File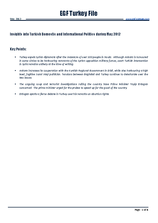 EGF Turkey File, May 2012
Insights into Turkish Domestic and International Politics during May 2012

Key Points:


Turkey expels Syrian diplomats after the massacre of over 100 people in Houla. Although Ankara is rumoured in some circles to be harbouring remnants of the Syrian opposition military forces, overt Turkish intervention in Syria remains unlikely at the time of writing.
Ankara increases its cooperation with the Kurdish Regional Government in Erbil, while also harbouring a high level, fugitive Sunni Iraqi politician. Tensions between Baghdad and Turkey continue to deteriorate over the two issues.
The ongoing coup and terrorist investigations roiling the country have Prime Minister Tayip Erdogan concerned. The prime minister urged for the probes to speed up for the good of the country.
Erdogan sparks a fierce debate in Turkey over his remarks on abortion rights.
Previous issues
2019
2018
2017
2016
2015
2014
2013
2012
2011
2010