EGF products
EGF Turkey File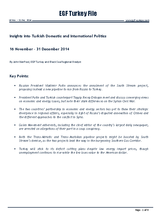 EGF Turkey File, Mid November — December 2014
Insights into Turkish Domestic and International Politics
16 November — 31 December 2014
By John VanPool, EGF Turkey and Black Sea Regional Analyst

Key Points:
Russian President Vladimir Putin announces the annulment of the South Stream project, proposing instead a new pipeline to run from Russia to Turkey.
President Putin and Turkish counterpart Tayyip Recep Erdogan meet and discuss converging views on economic and energy issues, but note their stark differences on the Syrian Civil War.
The two countries" partnership in economic and energy sectors has yet to thaw their strategic divergence in regional affairs, especially in light of Russia"s disputed annexation of Crimea and the different approaches to the conflict in Syria.
Gulen Movement adherents, including the chief editor of the country"s largest daily newspaper, are arrested on allegations of their part in a coup conspiracy.
Both the Trans-Adriatic and Trans-Anatolian pipeline projects might be boosted by South Stream"s demise, as the two projects lead the way in the burgeoning Southern Gas Corridor.
Turkey will stick to its deficit cutting plans despite low energy import prices, though unemployment continues to rise while the lira loses value to the American dollar.
Previous issues
2019
2018
2017
2016
2015
2014
2013
2012
2011
2010