EGF products
EGF Turkey File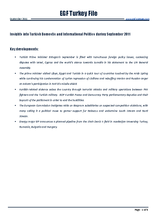 EGF Turkey File, September 2011
Insights into Turkish Domestic and International Politics
September 2011

Key Points:
Turkish Prime Minister Erdogan's September is filled with tumultuous foreign policy issues, coalescing disputes with Israel, Cyprus and the world"s stance towards Somalia in his statement to the UN General Assembly.
The prime minister visited Libya, Egypt and Tunisia in a quick tour of countries touched by the Arab Spring while continuing his condemnation of Syrian repression of civilians and rebuffing Iranian and Russian anger at Ankara's participation in NATO's missile shield.
Kurdish-related violence seizes the country through terrorist attacks and military operations between PKK fighters and the Turkish military. BDP Kurdish Peace and Democracy Party parliamentary deputies end their boycott of the parliament in order to end the hostilities.
The European Commission instigates raids on Gazprom subsidiaries on suspected competition violations, with many calling it a political move to garner support for Nabucco and undermine South Stream and Nord Stream.
Energy major BP announces a planned pipeline from the Shah Deniz II field in Azerbaijan traversing Turkey, Romania, Bulgaria and Hungary.
Previous issues
2019
2018
2017
2016
2015
2014
2013
2012
2011
2010