EGF products
EGF Turkey File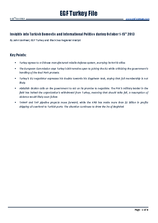 EGF Turkey File, 1 October — 15 October 2013
Insights into Turkish Domestic and International Politics
1 October — 15 October 2013
By John VanPool, EGF Turkey and Black Sea Regional Analyst
Key Points:
Turkey agrees to a Chinese manufactured missile defense system, worrying its NATO allies.
The European Commission says Turkey's bid remains open to joining the EU while criticizing the government's handling of the Gezi Park protests.
Turkey's EU negotiator expresses his doubts towards his Sisyphean task, saying that full membership is not likely.
Abdullah Ocalan calls on the government to act on its promise to negotiate. The PKK's military leader in the field has halted the organization's withdrawal from Turkey, meaning that should talks fail, a resumption of violence would likely soon follow.
TANAP and TAP pipeline projects move forward, while the KRG has made more than $1 billion in profits shipping oil overland to Turkish ports. The situation continues to draw the ire of Baghdad.
Previous issues
2019
2018
2017
2016
2015
2014
2013
2012
2011
2010