EGF products
EGF Turkey File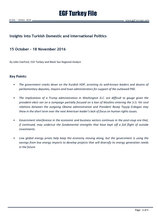 EGF Turkey File, October 15 — November 18, 2016
Insights into Turkish Domestic and International Politics
15 October — 18 November 2016
By John VanPool, EGF Turkey and Black Sea Regional Analyst
Key Points:
The government cracks down on the Kurdish HDP, arresting its well-known leaders and dozens of parliamentary deputies, mayors and town administrators for support of the outlawed PKK.
The implications of a Trump administration in Washington D.C. are difficult to gauge given the president-elect ran on a campaign partially focused on a ban of Muslims entering the U.S. Yet cool relations between the outgoing Obama administration and President Recep Tayyip Erdogan may thaw in the short term over the next American leader"s lack of focus on human rights issues.
Government interference in the economic and business sectors continues in the post-coup era that, if continued, may undercut the fundamental strengths that have kept off a full flight of outside investments.
Low global energy prices help keep the economy moving along, but the government is using the savings from low energy imports to develop projects that will diversify its energy generation needs in the future.
Previous issues
2019
2018
2017
2016
2015
2014
2013
2012
2011
2010