EGF products
EGF Turkey File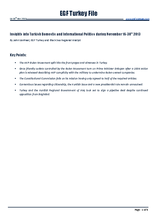 EGF Turkey File, 16 November — 30 November 2013
Insights into Turkish Domestic and International Politics
16 November — 30 November 2013
By John VanPool, EGF Turkey and Black Sea Regional Analyst
Key Points:
The AKP-Gulen Movement split hits the front pages and airwaves in Turkey.
Once friendly outlets controlled by the Gulen Movement turn on Prime Minister Erdogan after a 2004 action plan is released describing AKP complicity with the military to undermine Gulen-owned companies.
The Constitutional Commission fails on its mission having only agreed to half of the required articles.
Contentious issues regarding citizenship, the Kurdish issue and a new presidential role remain unresolved.
Turkey and the Kurdish Regional Government of Iraq look set to sign a pipeline deal despite continued opposition from Baghdad.
Previous issues
2019
2018
2017
2016
2015
2014
2013
2012
2011
2010