EGF products
EGF Turkey File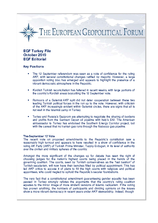 EGF Turkey File, October 2010
Insights into Turkish Domestic and International Politics
October 2010
Key Points:
The 12 September referendum was seen as a vote of confidence for the ruling AKP, with several constitutional changes ratified by majority. However, a large opposition-voting bloc has emerged and appears to highlight the presence of a vibrant democratic atmosphere in the Republic.
Kurdish-Turkish reconciliation has faltered in recent weeks, with large portions of the country's Kurdish areas boycotting the 12 September vote.
Rumours of a Gulenist-AKP split did not deter cooperation between these two leading Turkish political forces in the run up to the vote. However, with criticism of the AKP increasingly evident within Gulenist circles, there are signs that all is not well in the Islamist camp in Turkey.
Turkey and Russia's Gazprom are attempting to negotiate the sharing of burdens and profits from the Samsun-Ceyan oil pipeline with Italy's ENI. The American ambassador to Turkey has endorsed the Southern Energy Corridor project, but with the caveat that no Iranian gas runs through the Nabucco gas pipeline.
Previous issues
2019
2018
2017
2016
2015
2014
2013
2012
2011
2010