EGF products
EGF Turkey File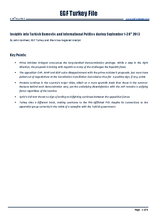 EGF Turkey File, September 2013
Insights into Turkish Domestic and International Politics
September 2013
By John VanPool, EGF Turkey and Black Sea Regional Analyst
Key Points:
Prime Minister Erdogan announces the long-awaited democratization package. While a step in the right direction, the proposal is lacking with regards to many of the challenges the Republic faces.
The opposition CHP, MHP and BDP voice disappointment with the prime minister's proposals, but none have pulled out of negotiations at the Constitution Conciliation Commission thus far. A positive sign, if any, exists.
Protests continue in the country's major cities, albeit on a more sporadic basis than those in the summer. Reasons behind each demonstration vary, yet the underlying dissatisfaction with the AKP remains a unifying factor regardless of the location.
Syria's civil war shows no sign of ending as infighting continues between the opposition forces.
Turkey tries a different track, making overtures to the PKK-affiliated PYD despite its connections to the separatist group currently in the midst of a ceasefire with the Turkish government.
Previous issues
2019
2018
2017
2016
2015
2014
2013
2012
2011
2010