EGF products
EGF Turkey File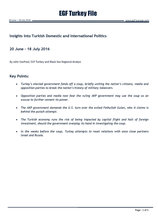 EGF Turkey File, June 20 — July 18, 2016
Insights into Turkish Domestic and International Politics
June — July 2016
By John VanPool, EGF Turkey and Black Sea Guest Analyst
Key Points:
Turkey"s elected government fends off a coup, briefly uniting the nation"s citizens, media and opposition parties to break the nation"s history of military takeovers.

Opposition parties and media now fear the ruling AKP government may use the coup as an excuse to further cement its power.

The AKP government demands the U.S. turn over the exiled Fethullah Gulen, who it claims is behind the putsch attempt.

The Turkish economy runs the risk of being impacted by capital flight and halt of foreign investment, should the government overplay its hand in investigating the coup.
In the weeks before the coup, Turkey attempts to reset relations with once close partners Israel and Russia.
Previous issues
2019
2018
2017
2016
2015
2014
2013
2012
2011
2010