EGF products
EGF Turkey File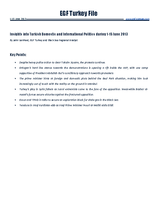 EGF Turkey File, 1 June — 15 June 2013
Insights into Turkish Domestic and International Politics
1 June — 15 June 2013
By John VanPool, EGF Turkey and Black Sea Regional Analyst
Key Points:
Despite heavy police action to clear Taksim Square, the protests continue.
Erdogan's hard line stance towards the demonstrations is opening a rift inside the AKP, with one camp supportive of President Abdullah Gul's conciliatory approach towards protesters.
The prime minister hints at foreign and domestic plots behind the Gezi Park situation, making him look increasingly out of touch with the reality on the ground in Istanbul.
Turkey's play in Syria falters as Sunni extremists come to the fore of the opposition. Meanwhile Bashar alAssad"s forces secure victories against the fractured opposition.
Exxon and TPAO in talks to secure an exploration block for shale gas in the Black Sea.
Tensions in Iraqi Kurdistan ebb as Iraqi Prime Minister Nouri al-Maliki visits Erbil.
Previous issues
2019
2018
2017
2016
2015
2014
2013
2012
2011
2010