EGF products
EGF Turkey File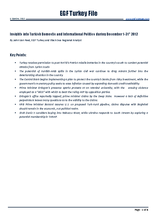 EGF Turkey File, December 2012
Insights into Turkish Domestic and International Politics
December 2012
By John VanPool, EGF Turkey and Black Sea Regional Analyst

Key Points:
Turkey receives permission to post NATO's Patriot missile batteries in the country's south to combat potential attacks from Syrian Scuds
The potential of Kurdish-Arab splits in the Syrian civil war continue to drag Ankara further into the deteriorating situation in the country.
The Central Bank begins implementing a plan to protect the country's banks from risky investment, while the government's monetary policy seeks to ease inflation caused by expanding domestic credit availability.
Prime Minister Erdogan's presence sparks protests at an Istanbul university, with the ensuing violence
employed as a "stick" with which to beat the ruling AKP by opposition parties.
Erdogan's office reportedly tapped; prime minister claims by the Deep State. However a lack of definitive perpetrators leaves many questions as to the validity to the claims.
KRG Prime Minister Barzani assures U.S. on proposed Turk-Kurd pipeline, claims disputes with Baghdad should remain in the economic, not political realm.
Shah Deniz II considers buying into Nabucco West, while Ukraine responds to South Stream by exploring a potential membership in TANAP.
Previous issues
2019
2018
2017
2016
2015
2014
2013
2012
2011
2010