EGF products
EGF Turkey File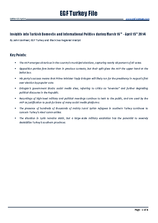 EGF Turkey File, 16 March — 15 April 2014
Insights into Turkish Domestic and International Politics
16 March — 15 April 2014
By John VanPool, EGF Turkey and Black Sea Regional Analyst

Key Points:
The AKP emerges victorious in the country"s municipal elections, capturing nearly 43 percent of all votes.
Opposition parties fare better than in previous contests, but their split gives the AKP the upper hand at the ballot box.
His party"s success means that Prime Minister Tayip Erdogan will likely run for the presidency in August"s first ever election by popular vote.
Erdogan"s government blocks social media sites, referring to critics as "enemies" and further degrading political discourse in the Republic.
Recordings of high-level military and political meetings continue to leak to the public, and are used by the AKP as justification to push for bans of many social media platforms.
The presence of hundreds of thousands of mainly Sunni Syrian refugees in southern Turkey continues to concern Turkey"s Alevi communities.
The situation in Syria remains static, but a large-scale military escalation has the potential to severely destabilize Turkey"s southern provinces.
Previous issues
2019
2018
2017
2016
2015
2014
2013
2012
2011
2010