EGF products
EGF Turkey File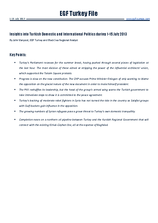 EGF Turkey File, 1 July — 15 July 2013
Insights into Turkish Domestic and International Politics
1 July — 15 July 2013
By John VanPool, EGF Turkey and Black Sea Regional Analyst
Key Points:
Turkey's Parliament recesses for the summer break, having pushed through several pieces of legislation at the last hour. The most divisive of these aimed at stripping the power of the influential architects' union, which supported the Taksim Square protests.
Progress is slow on the new constitution. The CHP accuses Prime Minister Erdogan of only wanting to blame the opposition on the glacial nature of the new document in order to make himself president.
The PKK reshuffles its leadership, but the head of the group's armed wing warns the Turkish government to take immediate steps to show it is committed to the peace agreement.
Turkey's backing of moderate rebel fighters in Syria has not turned the tide in the country as Salafist groups with Gulf backers gain influence in the opposition.
The growing numbers of Syrian refugees pose a grave threat to Turkey's own domestic tranquillity.
Completion nears on a northern oil pipeline between Turkey and the Kurdish Regional Government that will connect with the existing Kirkuk-Ceyhan line, all at the expense of Baghdad.
Previous issues
2019
2018
2017
2016
2015
2014
2013
2012
2011
2010