EGF products
EGF Turkey File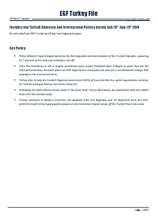 EGF Turkey File, 16 July — 15 August 2014
Insights into Turkish Domestic and International Politics
16 July — 15 August 2014
By John VanPool, EGF Turkey and Black Sea Regional Analyst

Key Points:
Prime Minister Tayip Erdogan becomes the first popularly elected president of the Turkish Republic, capturing 51.7 percent of the vote and avoiding a run off.
Since the Presidency is still a largely ceremonial post, expect President-elect Erdogan to push hard for the 2015 parliamentary elections where an AKP majority win could pave the way for a constitutional change that empowers the executive branch.
Turkey tries to help the Kurdish Regional Government (KRG) of Iraq hold the line, while negotiations continue for Turkish hostages held by the Islamic State (IS).
Following the latest Hamas-Israeli clash in the Gaza Strip, Turkey foreswears all cooperation with the Jewish state until the combat stops.
Turkey continues to balance economic ties between Erbil and Baghdad over oil shipments from the KRG, while the South Stream gas pipeline passes an environmental impact study off the Turkish Black Sea coast.
Previous issues
2019
2018
2017
2016
2015
2014
2013
2012
2011
2010