EGF products
EGF Turkey File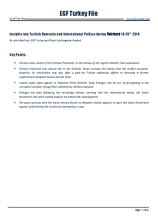 EGF Turkey File, 18 February — 28 February 2014
Insights into Turkish Domestic and International Politics
18 February — 28 February 2014
By John VanPool, EGF Turkey and Black Sea Regional Analyst

Key Points:
Ukraine loses control of the Crimean Peninsula, to the dismay of the region"s Muslim Tatar population.
Turkey"s historical and cultural ties to the Crimean Tatars increase the chance that the conflict escalates. However, its connections may also offer a path for Turkish diplomatic efforts to intercede in further confrontation between Russia and the West.
Leaked audio tapes appear to implicate Prime Minister Tayip Erdogan and his son of wrongdoing in the corruption scandal, though their authenticity remains disputed.
Erdogan hits back following the recordings release, claiming that the international media, the Gulen Movement and other outside powers are behind the investigations.
The peace process with the Kurds remains frozen as Abdullah Ocalan appears to warn the Gulen Movement against undermining the country by attempting a coup.
Previous issues
2019
2018
2017
2016
2015
2014
2013
2012
2011
2010