EGF products
EGF Turkey File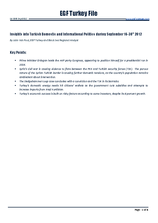 EGF Turkey File, 16 September — 30 September 2012
Insights into Turkish Domestic and international Politics
16 September — 30 September 2012
by John VanPool, EGF Turkey and Black Sea Regional Analyst
Key Points:
Prime Minister Erdogan leads the AKP party Congress, appearing to position himself for a presidential run in 2014.
Syria's civil war is causing violence to flare between the PKK and Turkish security forces (TSK). The porous nature of the Syrian-Turkish border is causing further domestic tensions, as the country's population remains ambivalent about intervention.
The Sledgehammer coup case concludes with a conviction and the TSK in its barracks.
Turkey's domestic energy needs hit citizens' wallets as the government cuts subsidies and attempts to increase imports from Iraqi Kurdistan.
Turkey's economic success is built on risky factors according to some investors, despite its 8 percent growth.
Previous issues
2019
2018
2017
2016
2015
2014
2013
2012
2011
2010