EGF products
EGF Turkey File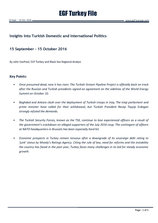 EGF Turkey File, September 15 — October 15, 2016
Insights into Turkish Domestic and International Politics
15 September — 15 October 2016
By John VanPool, EGF Turkey and Black Sea Guest Analyst
Key Points:
Once presumed dead, now it has risen. The Turkish Stream Pipeline Project is officially back on track after the Russian and Turkish presidents signed an agreement on the sidelines of the World Energy Summit on October 10.

Baghdad and Ankara clash over the deployment of Turkish troops in Iraq. The Iraqi parliament and prime minister have called for their withdrawal, but Turkish President Recep Tayyip Erdogan strongly refuted the demands.

The Turkish Security Forces, known as the TSK, continue to lose experienced officers as a result of the government"s crackdown on alleged supporters of the July 2016 coup. The contingent of officers at NATO headquarters in Brussels has been especially hard hit.

Economic prospects in Turkey remain tenuous after a downgrade of its sovereign debt rating to "junk" status by Moody"s Ratings Agency. Citing the rule of law, need for reforms and the instability the country has faced in the past year, Turkey faces many challenges in its bid for steady economic growth.
Previous issues
2019
2018
2017
2016
2015
2014
2013
2012
2011
2010