EGF products
EGF Turkey File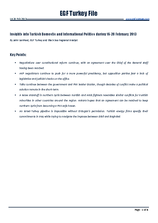 EGF Turkey File, 16 February — 28 February 2013
Insights into Turkish Domestic and International Politics
16 February — 28 February 2013
By John VanPool, EGF Turkey and Black Sea Regional Analyst
Key Points:
Negotiations over constitutional reform continue, with an agreement over the Chief of the General staff having been reached.
AKP negotiators continue to push for a more powerful presidency, but opposition parties fear a lack of legislative and judicial checks on the office.
Talks continue between the government and PKK leader Ocalan, though decades of conflict make a political solution remote in the short-term.
A tense standoff in northern Syria between Kurdish and Arab fighters resembles similar conflicts for Kurdish minorities in other countries around the region. Ankara hopes that an agreement can be reached to keep northern Syria from becoming a PKK safe haven.
An Israel-Turkey pipeline is impossible without Erdogan"s permission. Turkish energy firms specify their commitments in Iraq while trying to navigate the impasse between Erbil and Baghdad.
Previous issues
2019
2018
2017
2016
2015
2014
2013
2012
2011
2010