EGF products
EGF Turkey File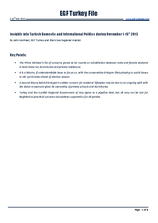 EGF Turkey File, 1 November — 15 November 2013
Insights into Turkish Domestic and International Politics
1 November — 15 November 2013
By John VanPool, EGF Turkey and Black Sea Regional Analyst
Key Points:
The Prime Minister's list of concerns grows as he rounds on cohabitation between male and female students in both state-run dormitories and private residences.
It is a bizarre, if understandable issue to focus on, with the conservative Erdogan likely playing to social issues to stir up his base ahead of election season.
A second theory behind Erdogan's sudden concern for students' lifestyles may be due to an ongoing split with the Gulen movement given its ownership of private schools and dormitories.
Turkey and the Kurdish Regional Government of Iraq agree to a pipeline deal, but all may not be lost for Baghdad as practical concerns necessitate cooperation for all parties.
Previous issues
2019
2018
2017
2016
2015
2014
2013
2012
2011
2010