EGF products
EGF Turkey File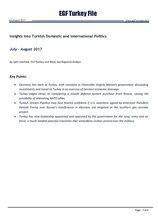 EGF Turkey File, July — August, 2017
Insights into Turkish Domestic and International Politics
July — August, 2017
By John VanPool, EGF Turkey and Black Sea Regional Analyst
Key Points:
Germany hits back at Turkey, with ministers in Chancellor Angela Merkel"s government dissuading investments and travel to Turkey in an exercise of German economic leverage.
Turkey edges closer to completing a missile defense system purchase from Russia, raising the possibility of alienating NATO allies.
Turkish Stream Pipeline may face finance problems if U.S. sanctions signed by American President Donald Trump over Russia"s interference in elections are targeted at the southern gas corridor project.
Turkey has new leadership appointed and approved by the government for the navy, army and air force, a much needed peaceful transition that emboldens civilian control over the military.
Previous issues
2019
2018
2017
2016
2015
2014
2013
2012
2011
2010