EGF products
EGF Turkey File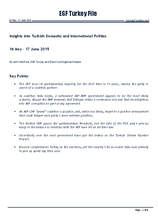 EGF Turkey File, Mid May — Mid June 2015
Insights into Turkish Domestic and International Politics
16 May — 17 June 2015
By John VanPool, EGF Turkey and Black Sea Regional Analyst

Key Points:
The AKP loses its parliamentary majority for the first time in 13 years, leaving the party in search of a coalition partner.
As coalition talks begin, a nationalist AKP-MHP government appears to be the most likely scenario, though the MHP demands that Erdogan retain a ceremonial role and that investigations into AKP corruption be part of any agreement.
An AKP-CHP "grand" coalition is possible, and, while less likely, might be a positive arrangement that could temper each party"s more extreme positions.
The Kurdish HDP passes the parliamentary threshold, but the fate of the PKK peace process hangs in the balance as relations with the AKP have hit an all-time low.
Uncertainty over the next government have put the brakes on the Turkish Stream Pipeline Project.
Brussels congratulates Turkey on the elections, yet the country"s EU accession talks look unlikely to pick up speed any time soon.
Previous issues
2019
2018
2017
2016
2015
2014
2013
2012
2011
2010