EGF products
EGF Turkey File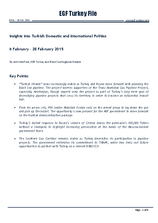 EGF Turkey File, February 2015
Insights into Turkish Domestic and International Politics
6 February — 28 February 2015
By John VanPool, EGF Turkey and Black Sea Regional Analyst

Key Points:
"Turkish Stream" looks increasingly viable as Turkey and Russia move forward with planning the Black Sea pipeline. The project worries supporters of the Trans-Anatolian Gas Pipeline Project, especially Azerbaijan, though experts view the project as part of Turkey"s long term goal of diversifying pipeline projects that cross its territory in order to become an influential transit hub.
From his prison cell, PKK leader Abdullah Ocalan calls on the armed group to lay down the gun and pick up the ballot. The opportunity is now present for the AKP government to move forward on the Kurdish democratization package.
Turkey"s muted response to Russia"s seizure of Crimea leaves the peninsula"s 300,000 Tatars without a champion to highlight increasing persecution at the hands of the Moscow-backed government there.
The Southern Gas Corridor remains viable as Turkey diversifies its participation in pipeline projects. The government reiterates its commitment to TANAP, while Iran feels out future opportunities to partner with Turkey on a revived NABUCCO.
Previous issues
2019
2018
2017
2016
2015
2014
2013
2012
2011
2010