EGF products
EGF Turkey File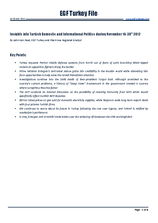 EGF Turkey File, 16 November — 30 November 2012
Insights into Turkish Domestic and International Politics
16 November — 30 November 2012
By John VanPool, EGF Turkey and Black Sea Regional Analyst

Key Points:
Turkey requests Patriot missile defense systems from NATO out of fears of Syria launching WMD-tipped rockets at opposition fighters along the border.
Prime Minister Erdogan's anti-Israel stance gains him credibility in the Muslim world while alienating him from opportunities to help solve the Israeli-Palestinian situation.
Investigations continue into the 1993 death of then-president Turgut Ozal. Although unrelated to the country's current problems, a history of "Deep State" involvement in the government created a country where conspiracy theories fester.
The AKP conducts an internal discussion on the possibility of revoking immunity from MPs which would specifically affect Kurdish BDP deputies.
BOTAS raises prices on gas sold for domestic electricity supplies, while Gazprom seals long term export deals with four private Turkish firms.
ENI continues to worry about its future in Turkey following the row over Cyprus, and TANAP is ratified by Azerbaijan's parliament.
In Iraq, Erdogan and al-Maliki trade barbs over the widening rift between the KRG and Baghdad.
Previous issues
2019
2018
2017
2016
2015
2014
2013
2012
2011
2010