EGF products
EGF Turkey File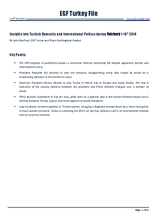 EGF Turkey File, 1 February — 18 February 2014
Insights into Turkish Domestic and International Politics
1 February — 18 February 2014
By John VanPool, EGF Turkey and Black Sea Regional Analyst

Key Points:
The AKP-majority in parliament passes a restrictive Internet censorship bill despite opposition parties and international outcry.
President Abdullah Gul declines to veto the measure, disappointing many who hoped he would be a moderating influence in the months to come.
American President Barack Obama to skip Turkey in March trip to Europe and Saudi Arabia. The skip is indicative of the cooling relations between the president and Prime Minister Erdogan over a number of issues.
TPAO declines investment in Iran for now, while talks on a pipeline deal in the Eastern Mediterranean and a détente between Turkey, Cyprus and Israel appears mutually beneficial.
Iraqi Kurdistan connects pipeline to Turkish system, enraging a Baghdad already beset by a Sunni insurgency in Iraq"s western province. Turkey is collecting the KRG"s oil, but has refused to sell it on international markets until an accord is reached.
Previous issues
2019
2018
2017
2016
2015
2014
2013
2012
2011
2010