EGF products
EGF Turkey File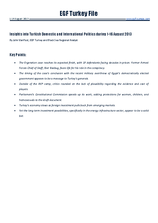 EGF Turkey File, 1 August — 15 August 2013
Insights into Turkish Domestic and International Politics
1 August — 15 August 2013
By John VanPool, EGF Turkey and Black Sea Regional Analyst
Key Points:
The Ergenekon case reaches its expected finish, with 19 defendants facing decades in prison. Former Armed Forces Chief of Staff, Ilker Basbug, faces life for his role in the conspiracy.
The timing of the case's conclusion with the recent military overthrow of Egypt's democratically elected government appears to be a message to Turkey's generals.
Outside of the AKP camp, critics rounded on the lack of plausibility regarding the evidence and cast of players.
Parliament's Constitutional Commission speeds up its work, adding protections for women, children, and homosexuals to the draft document.
Turkey's economy slows as foreign investment pulls back from emerging markets.
Yet the long term investment possibilities, specifically in the energy infrastructure sector, appear to be a solid bet.
Previous issues
2019
2018
2017
2016
2015
2014
2013
2012
2011
2010