EGF products
EGF Turkey File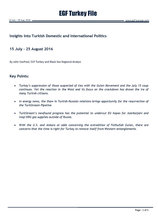 EGF Turkey File, July 15 — August 25, 2016
Insights into Turkish Domestic and International Politics
15 July — 25 August 2016
By John VanPool, EGF Turkey and Black Sea Guest Analyst
Key Points:
Turkey's suppression of those suspected of ties with the Gulen Movement and the July 15 coup continues. Yet the reaction in the West and its focus on the crackdown has drawn the ire of many Turkish citizens.

In energy news, the thaw in Turkish-Russian relations brings opportunity for the resurrection of the TurkStream Pipeline.

TurkStream"s newfound progress has the potential to undercut EU hopes for Azerbaijani and Iraqi KRG gas supplies outside of Russia.

With the U.S. and Ankara at odds concerning the extradition of Fethullah Gulen, there are concerns that the time is right for Turkey to remove itself from Western entanglements.
Previous issues
2019
2018
2017
2016
2015
2014
2013
2012
2011
2010