EGF products
EGF Turkey File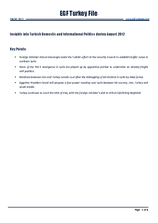 EGF Turkey File, August 2012
Insights into Turkish Domestic and International Politics during August 2012
Key Points:


Foreign Minister Ahmet Davutoglu leads the Turkish effort at the Security Council to establish buffer zones in northern Syria.
Fears of the PKK"s resurgence in Syria are played up by opposition parties to undermine an already fragile AKP position.
Relations between Iran and Turkey remain cool after the kidnapping of 48 Iranians in Syria by rebel forces.
Egyptian President Mursi will propose a four power meeting over Syria between his country, Iran, Turkey and Saudi Arabia.
Turkey continues to court the KRG of Iraq, with the foreign minister"s visit to Kirkuk infuriating Baghdad.
Previous issues
2019
2018
2017
2016
2015
2014
2013
2012
2011
2010