EGF products
EGF Turkey File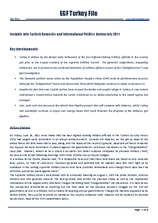 EGF Turkey File, July 2011
Insights into Turkish Domestic and International Politics
July 2011
Key Points:
Turkey is shaken by the abrupt early retirement of the four highest-ranking military officials in the country just prior to the August meeting of the Supreme Military Council. The generals' resignations, requesting retirement, are in protest at the continued detention of military officers as part of the "Sledgehammer" coup plot investigation.
The domestic political scene calms as the Republican People's Party (CHP) ends its parliamentary boycott, although the "independent" Peace and Democratic Party (BDP) delegates continue to refuse to be sworn in.
Despite the fact that over 10,000 Syrians have crossed the border and sought refuge in Turkey, in July Ankara maintained a muted stance towards the Syrian crackdown as no viable alternative to the Assad regime has emerged.
Iran, Syria and Iraq announce the Islamic Gas Pipeline project that will compete with Nabucco, while Turkey and Azerbaijan continue to argue over energy issues that could threaten the progress of the Nabucco gas pipeline.
Previous issues
2019
2018
2017
2016
2015
2014
2013
2012
2011
2010