EGF products
EGF Turkey File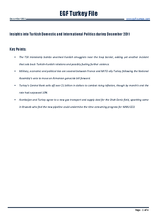 EGF Turkey File, December 2011
Insights into Turkish Domestic and International Politics
December 2011
Key Points:
The TSK mistakenly bombs unarmed Kurdish smugglers near the Iraqi border, adding yet another incident that sets back Turkish-Kurdish relations and possibly fueling further violence.
Military, economic and political ties are severed between France and NATO ally Turkey following the National Assembly"s vote to move an Armenian genocide bill forward.
Turkey"s Central Bank sells off over $1 billion in dollars to combat rising inflation, though by month"s end the rate had surpassed 10%.
Azerbaijan and Turkey agree to a new gas transport and supply deal for the Shah Deniz field, upsetting some in Brussels who feel the new pipeline could undermine the time consuming progress for NABUCCO.
Previous issues
2019
2018
2017
2016
2015
2014
2013
2012
2011
2010