EGF products
EGF Turkey File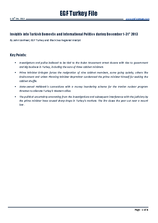 EGF Turkey File, December 2013
Insights into Turkish Domestic and International Politics
December 2013
By John VanPool, EGF Turkey and Black Sea Regional Analyst
Key Points:
Investigators and police believed to be tied to the Gulen Movement arrest dozens with ties to government and big business in Turkey, including the sons of three cabinet ministers.
Prime Minister Erdogan forces the resignation of nine cabinet members, some going quietly, others like Environment and Urban Planning Minister Bayrraktar condemned the prime minister himself for seeking the cabinet shuffle.
State-owned Halkbank's connections with a money laundering scheme for the Iranian nuclear program threaten to alienate Turkey's Western allies.
The political uncertainty emanating from the investigations and subsequent interference with the judiciary by the prime minister have caused sharp drops in Turkey's markets. The lira closes the year out near a record low.
Previous issues
2019
2018
2017
2016
2015
2014
2013
2012
2011
2010