EGF products
EGF Turkey File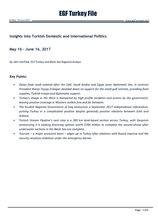 EGF Turkey File, May 26 — June 16, 2017
Insights into Turkish Domestic and International Politics
16 May — 16 June, 2017
By John VanPool, EGF Turkey and Black Sea Regional Analyst
Key Points:
Qatar finds itself isolated after the UAE, Saudi Arabia and Egypt sever diplomatic ties. In contrast President Recep Tayyip Erdogan doubled down on support for the small gulf emirate, providing food supplies, Turkish troops and diplomatic support.
Turkey"s image in the West is hampered by high profile incidents and arrests by the government, leaving positive coverage in Western outlets few and far between.
The Kurdish Regional Government of Iraq announces a September 2017 independence referendum, putting Turkey in a complicated position despite generally positive relations between Erbil and Ankara.
Turkish Stream Pipeline"s next step is a 200 km land-based section across Turkey, with Gazprom announcing it is seeking financing options worth $700 million to complete the second phase after underwater sections in the Black Sea are complete.
Tourism — a major economic boon — edges up in Turkey after relations with Russia improve and the security situation stabilizes under the emergency decree.
Previous issues
2019
2018
2017
2016
2015
2014
2013
2012
2011
2010