EGF products
EGF Turkey File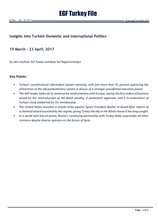 EGF Turkey File, March 15 — April 23, 2017
Insights into Turkish Domestic and International Politics
15 March — 23 April, 2017
By John VanPool, EGF Turkey and Black Sea Regional Analyst
Key Points:
Turkey"s constitutional referendum passes narrowly, with just more than 51 percent approving the elimination of the old parliamentary system in favour of a stronger presidential executive power.
The AKP leader looks set to continue his confrontations with Europe, saying the first orders of business would be the reintroduction of the death penalty, if parliament approves, and a re-assessment of Turkey"s long stalled bid for EU membership.
The United States launches a missile strike against Syrian President Bashar al-Assad after reports of a chemical attack launched by the regime, giving Turkey the ally in the White House it has long sought.
In a world with low oil prices, Russia"s continuing partnership with Turkey likely supersedes all other concerns despite diverse opinions on the future of Syria.
Previous issues
2019
2018
2017
2016
2015
2014
2013
2012
2011
2010