EGF products
EGF Turkey File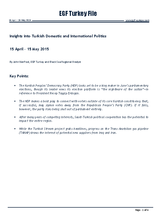 EGF Turkey File, Mid April — Mid May 2015
Insights into Turkish Domestic and International Politics
15 April — 15 May 2015
By John VanPool, EGF Turkey and Black Sea Regional Analyst

Key Points:
The Kurdish Peoples" Democracy Party (HDP) looks set to be a king maker in June"s parliamentary elections, though its leader vows its election platform is "the nightmare of the sultan"—in reference to President Recep Tayyip Erdogan.
The HDP makes a bold play to connect with voters outside of its core Kurdish constituency that, if successful, may siphon votes away from the Republican People"s Party (CHP). If it fails, however, the party risks being shut out of parliament entirely.
After many years of competing interests, Saudi-Turkish political cooperation has the potential to impact the entire region.
While the Turkish Stream project grabs headlines, progress on the Trans-Anatolian gas pipeline (TANAP) draws the interest of potential new suppliers from Iraq and Iran.
Previous issues
2019
2018
2017
2016
2015
2014
2013
2012
2011
2010