EGF products
EGF Turkey File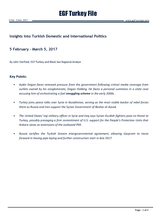 EGF Turkey File, 5 February — March 5, 2017
Insights into Turkish Domestic and International Politics
5 February — 5 March 2017
By John VanPool, EGF Turkey and Black Sea Regional Analyst
Key Points:
Aydin Dogan faces renewed pressure from the government following critical media coverage from outlets owned by his conglomerate, Dogan Holding. He faces a personal summons in a state case accusing him of orchestrating a fuel smuggling scheme in the early 2000s.
Turkey joins peace talks over Syria in Kazakhstan, serving as the most visible backer of rebel forces there as Russia and Iran support the Syrian Government of Bashar al-Assad.
The United States' top military officer in Syria and Iraq says Syrian Kurdish fighters pose no threat to Turkey, possibly presaging a firm commitment of U.S. support for the People's Protection Units that Ankara views as extensions of the outlawed PKK.
Russia certifies the Turkish Stream intergovernmental agreement, allowing Gazprom to move forward in having pipe laying and further construction start in late 2017.
Previous issues
2019
2018
2017
2016
2015
2014
2013
2012
2011
2010