EGF products
EGF Turkey File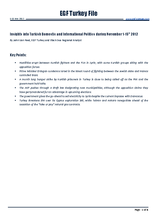 EGF Turkey File, 1 November — 15 November 2012
Insights into Turkish Domestic and International Politics
1 November — 15 November 2012
By John VanPool, EGF Turkey and Black Sea Regional Analyst

Key Points:
Hostilities erupt between Kurdish fighters and the FSA in Syria, with some Kurdish groups siding with the opposition forces.
Prime Minister Erdogan condemns Israel in the latest round of fighting between the Jewish state and Hamas controlled Gaza.
A month long hunger strike by Kurdish prisoners in Turkey is close to being called off as the PKK and the government hold talks.
The AKP pushes through a draft law designating new municipalities, although the opposition claims they have gerrymandered for an advantage in upcoming elections.
The government gives the go-ahead to sell electricity to Syria despite the current impasse with Damascus.
Turkey threatens ENI over its Cyprus exploration bid, while Tehran and Ankara renegotiate ahead of the cessation of the "take or pay" natural gas contracts.
Previous issues
2019
2018
2017
2016
2015
2014
2013
2012
2011
2010