EGF products
EGF Turkey File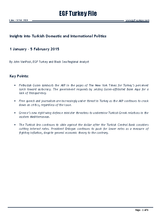 EGF Turkey File, January 2015
Insights into Turkish Domestic and International Politics
1 January — 5 February 2015
By John VanPool, EGF Turkey and Black Sea Regional Analyst

Key Points:
Fethullah Gulen lambasts the AKP in the pages of The New York Times for Turkey"s perceived lurch toward autocracy. The government responds by seizing Gulen-affiliated Bank Asya for a lack of transparency.
Free speech and journalism are increasingly under threat in Turkey as the AKP continues to crack down on critics, regardless of the issue.
Greece"s new right-wing defence minister threatens to undermine Turkish-Greek relations in the eastern Mediterranean.
The Turkish lira continues to slide against the dollar after the Turkish Central Bank considers cutting interest rates. President Erdogan continues to push for lower rates as a measure of fighting inflation, despite general economic theory to the contrary.
Previous issues
2019
2018
2017
2016
2015
2014
2013
2012
2011
2010