EGF products
EGF Turkey File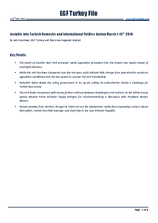 EGF Turkey File, 1 March — 15 March 2014
Insights into Turkish Domestic and International Politics
1 March — 15 March 2014
By John VanPool, EGF Turkey and Black Sea Regional Analyst

Key Points:
The death of another Gezi Park protester sends opposition protesters into the streets two weeks ahead of municipal elections.
While the AKP has been hampered over the last year, polls indicate little change from past election results as opposition candidates lack the star power to counter the AKP"s leadership.
Fethullah Gulen blasts the ruling government in an op-ed, calling its authoritarian tactics a challenge for Turkish democracy.
The AKP-Gulen Movement split causes further mistrust between Washington and Ankara, as the White House openly rebukes Prime Minister Tayyip Erdogan for mischaracterizing a discussion with President Barack Obama.
Crimea secedes from Ukraine, though its Tatars sit out the referendum. Aside from expressing concern about their plight, Ankara has little leverage over their fate in the new Crimean Republic.
Previous issues
2019
2018
2017
2016
2015
2014
2013
2012
2011
2010